Volunteer with us in Ecuador!
Be active in caring for your global community
Winter 2022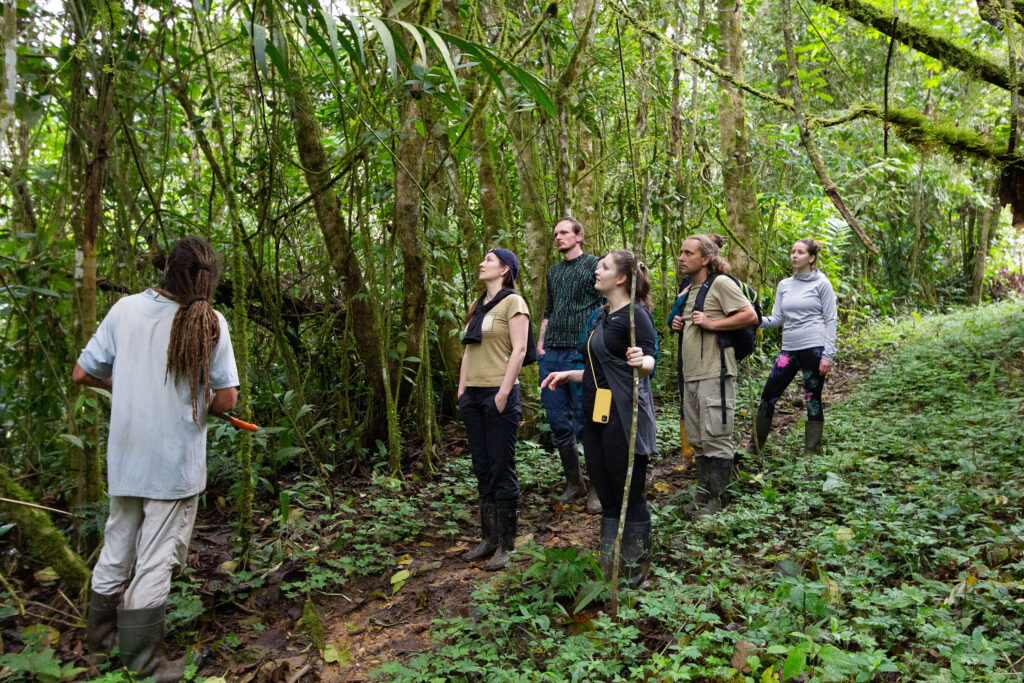 January 31 – February 19
Summer 2022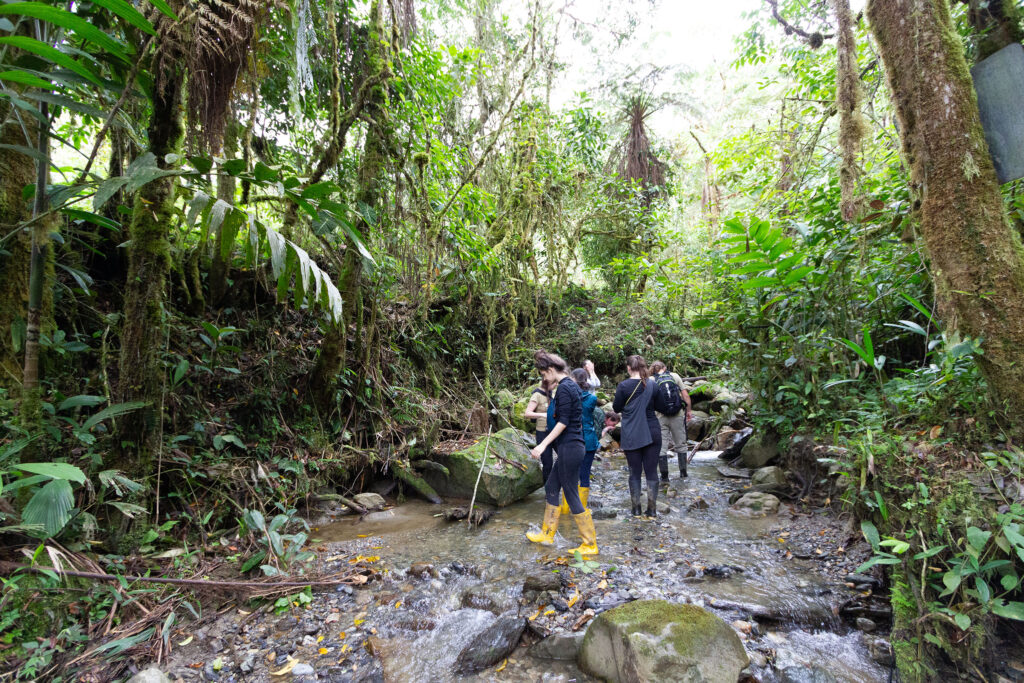 April 25 – May 15
Late Summer 2022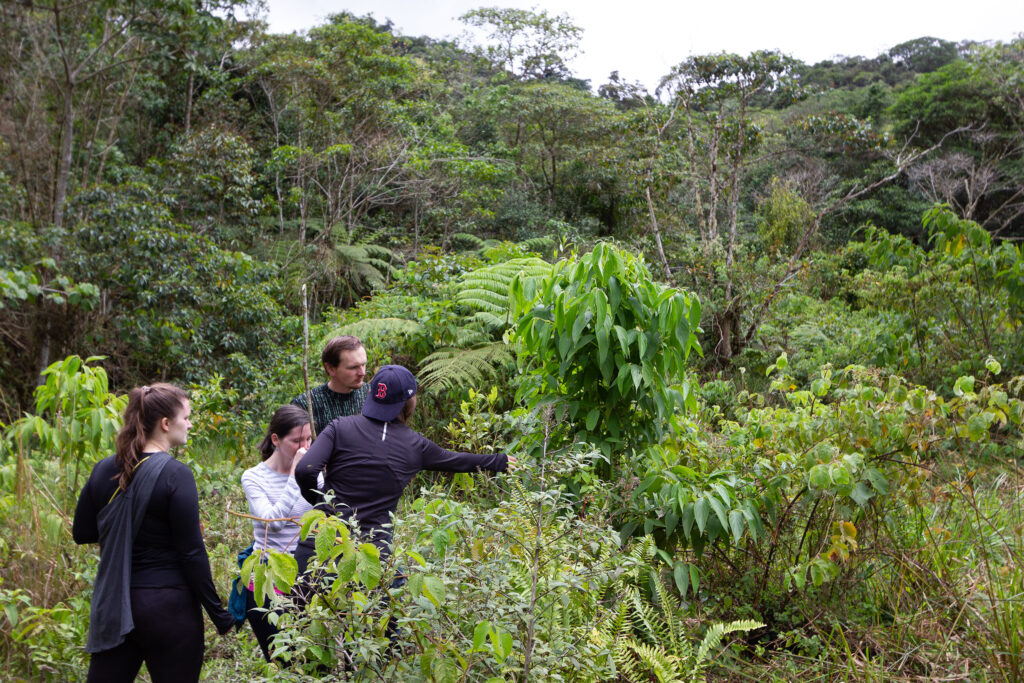 September 5 – September 25
Autumn 2022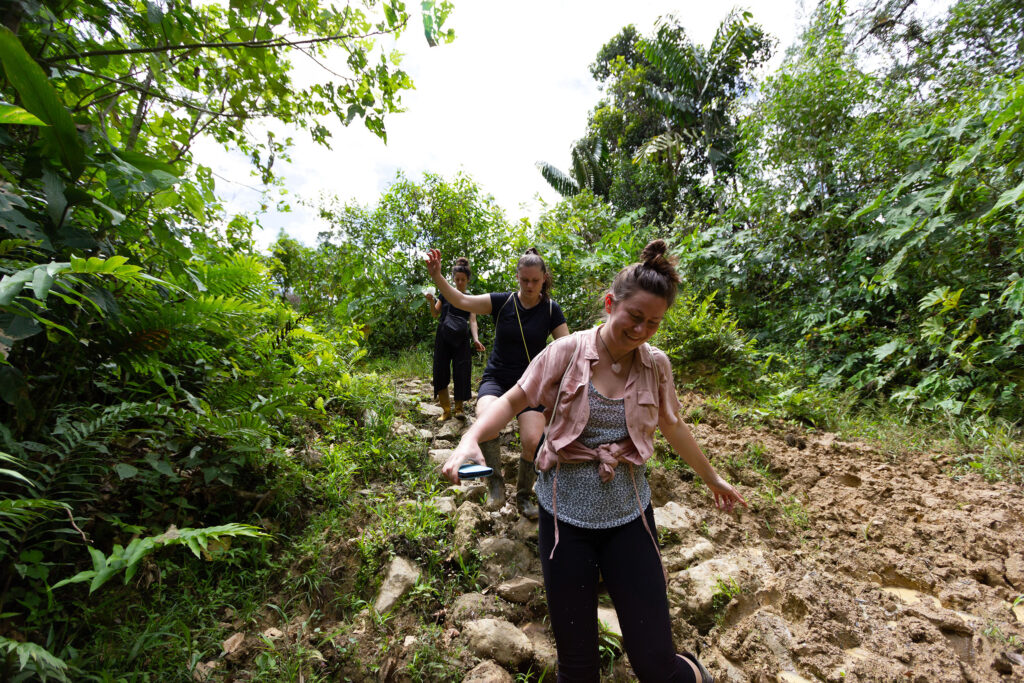 November 21 – December 11
Volunteer in Ecuador
---
Four times a year we bring a small group of volunteers out to experience the Amazon rainforest, and to be part of the communities that live there. We volunteer for Bosque Medicinal, our sister NGO based in Ecuador, to help fulfill their mission of direct conservation, scientific investigation, and community education. Join us and revitalize yourself while caring for one of the most precious ecosystems on the planet.
For more information, keep scrolling down!
The work
The current focus is to establish which species live in the part of the rainforest we are protecting. This will allow us to better share their stories, increasing our ability to further our mission of conservation, scientific investigation, and community education.
Once we have established a bio-baseline, we will initiate a reforestation study, to compare different methods of reforesting and seeding rainforests in bare land.
---
Generally speaking, we will be working in the Runahurco protected natural reserve. The work will vary day to day, and depending on which projects are active when we visit, and on the weather. Examples include:
Clearing & marking trails
Placing border markers
Placing & monitoring camera traps
Surveying & recording plants & animals to establish a bio-baseline (a report of what lives in the area)
Maintaining & expanding the Bosque Medicinal refugio
Tending to the Bosque Medicinal nursery & garden
Interacting with students in remote communities
Daily chores, including cooking, washing dishes, cleaning, bringing laundry to town, etc…
the adventures
It's not all work, we will schedule in some fun trips (although much of the work will also be quite exciting)! Like the work, the specifics on the fun trips will be decided once there, based on what everyone is most interested in seeing. That said, we hope to enjoy many of the following experiences with you!
Every morning we will share our daily practice of yoga and meditation.
We can visit several sacred waterfalls, and generally hike around the rainforest, learning more about its various inhabitants.
We can visit remote indigenous communities, and hear of the legends and magic the rainforests still hide.
We can travel to the lower Amazon and enjoy learning of a different ecosystem while riding in precarious canoes and 'botes'.
We can explore local cave systems and discover hidden underground scenic spaces.
We can journey through the modern city of Cuenca and its surrounding towns, to appreciate the artisanal markets and beautiful handicrafts of Ecuador.
We can travel across the country to see whales, dolphins, and other precious oceanic life.
We can learn about traditional medicinal plants and healing traditions.
The list of options continues, we will discuss them all and choose what you find most exciting!
The food
While on the volunteer trip, we encourage our volunteers to perhaps challenge their normal approach to life. This extends to the food we eat!
While living at the Bosque Medicinal refugio we will be cooking for ourselves, and eating a plant-based diet, with the option for vegetarian options upon request.
When eating out, which we will do when traveling, we encourage our volunteers to stick to a plant-based or vegetarian diet, although this is up to each individual. Ecuadorian restaurants will often have plant-based, and vegetarian options, although it is almost always just the side dishes: rice & beans.
We encourage everyone to bring their own vitamin supplements and energy bars.
What to bring
If there is one piece of advice to share with incoming visitors and volunteers, it would be to have an open mind and a sense of adventure. The second piece of advice would be to pack light! Remember, you will have to carry all of your own stuff when we travel to different cities, or hike to visit remote communities.
Below is a short list of recommended items to bring with you. Nothing is mandatory, although everyone is responsible for themselves! Many items can also be found in town, mosquito nets being a notable exception.
The temperatures will generally be warm and pleasant, although Ecuador has many micro-climates, with a 2 hour bus ride possibly resulting in a 10-15 degree change in temperature.
The rainforest is also quite wet, so consider water-proof bags for items that must stay dry.
Items to bring:
Sleeping bag or light blankets
Sleeping air mat
Mosquito net
Headlamp / flashlight
Folding knife
Work gloves
Reusable water bottle
Power-outlet adapter (American electricity sockets are different than European ones)
Powerbanks to charge devices can come in handy during the long bus rides
Eco-friendly toiletries & soap
Mosquito & bug repellent (must be DEET-free, so please use a natural alternative)
Medication you use or may need (anti-histamines, bug-bite itch control, anti-diarrhea, etc…)
First-aid kit
A towel
Water-proof bags
A day-bag / backpack (something small to carry essentials while hiking)
Clothing to bring:
*Clothing should be natural colored (black, brown, grey, green, tan, etc…)*
Light-weight hiking pants
Light-weight long sleeved and short sleeved shirts
Long-pants & long sleeved sleeping clothes (mostly due to insects)
Some warmer clothes (hoodies, jacket, something you can layer with – as you will) for the evenings. It gets chilly at night (or during heavy storms), dropping as low as 5C occasionally, and often below 12C
Swim-clothes
A hat or bandanna (something to cover your head and keep sweat out of your eyes)
Many hiking socks
Comfortable hiking shoes or durable hiking sandals
Rubber boots (Wellington's) – if you want your own, we have many at the base-camp to use, and can purchase more in town
A heavy-duty rain-poncho (this can also be purchased in town; most light-weight European ones tend to rip after one day's hike in the rainforest)
Getting there
The volunteer trip technically begins in Gualaquiza, a town near the Ecuadorian Amazon and the Bosque Medicinal forest refugio. This is a decent bus-ride away from the nearest airports, so please plan accordingly. We will do our best to help you with travel plans, if you get in touch with us early enough to work it all out together.
Flights:
*You are responsible for booking your own flights, the cost of the flights are NOT included in the fees we request for the volunteer program
We recommend flying in to Guayaquil, as the airport often has more convenient connections, and is cheaper than flying in to Cuenca, which is technically closer. Quito is much further north, and so we do not recommend flying in to Quito.
Bus:
Once you land, take a taxi to the bus terminal, and then get a bus to Gualaquiza. We will meet in Gualaquiza at the "El Paraíso" Hostel.
With all travel, we are happy to help out, but please get in touch earlier rather than last minute!
Health & Security
Ecuador is relatively safe, by the standards of any impoverished country. The areas we visit, in particular, are quite safe. That said, basic common-sense and safety precautions should be maintained.
Health concerns:
We will be spending most of our time in and near the Runahurco rainforest. As it is relatively remote from a large human population, there are few health or disease concerns. However, as a wild part of nature, we do have to be aware of (not afraid of, just aware) the local wildlife.
Small animals are often inquisitive and enjoy hiding, so we recommend always checking your equipment before using it, to avoid a surprise encounter with a tarantula or snake.
In the region we work, yellow fever is not a concern, however we may visit areas that do have cases of yellow fever (the Yaupi region which is the lower Amazon). Consult your preferred health authority as to whether you would like to vaccinate or not.
Please bring any basic medication, antibiotics, and eye-drops that you feel you might need.
If you are allergic to any insect or animal bites, please bring your own allergy medicine and epi-pens!
*If you have severe reactions (for example, risk of anaphylactic shock) we sadly cannot recommend that you join us, as medical attention and hospitals are over an hour away from our base, and several hours away from the deeper parts of the rainforest.*
Security Concerns:
The cities harbor more crime, although the areas we will be visiting (Cuenca, Gualaquiza, the rainforest) have considerably less than elsewhere in the country. That said, keep an eye on your belongings at all times, as we would recommend anywhere.
Racism, fundamentalism, and the like are not common, however, higher prices for foreigners does occur at times. You are welcome to see how effective your negotiating skills are if you are so inclined.
How much will it cost?
We have designed these trips to be as inexpensive as possible: We want to give as many volunteers as sustainably possible the opportunity to help care for the rainforest, and to create their own personal relationship with this pristine nature. As such, we charge the base-cost to us, making no profit off of the trip. Even our Forest.ink hosts volunteer, and pay the same price to attend!
So how much is it?
$800 USD
This includes:
Full room & board for the entire trip!
Food is included, and we will be cooking most of it ourselves.
Lodging is also included. Much of the time we will be staying at the Bosque Medicinal forest refugio. For the nights we are elsewhere, including the 1st and last night in Gualaquiza, we will cover the hotel costs.
Transport around Ecuador during the trip is included. We will be taking buses most of the time, using taxis only when buses are unavailable.
Costs for the "days-off", whether we go visit a Shuar community, or travel to see caves, etc… are also included. The exception being if the group decides to do something far more expensive than what we'd previously planned on, although we do not expect this to be the case.
This does NOT include:
Your flights or transportation to Ecuador
Transport between the airport you land at and Gualaquiza
Travel insurance
One more thing – this isn't a vacation!
---
Interested yet? I hope so, this is a magnificent opportunity to experience the rainforest at a deep level. Especially as you will be working with it, in it, and for it. In short – beware! This is no vacation! It is much much more, and work is expected. We offer you the chance to serve our planet with us, sweating together for her benefit.
We expect everyone to participate willingly in all tasks, including manual labor, according to their own ability
We expect everyone to respect nature the entire time during our trip. This means we clean up litter, rather than leave it. We do not take "trophy" style photos with any wildlife we happen to come across, and that we leave nature a good or better state than when we encountered it.
We will be interacting with the local community, and it is critical that we make them feel equally welcome and comfortable. They are typically a humble group, so please, be humble as well.
Forest.ink believes in inspiration, which means living the values we want to see prosper in our world. While with us, you will be representing Forest.ink and Bosque Medicinal. We hope you can live and share in values of respect, love, and care while with us.
A warning about the rainforest
The rainforest is a brilliant teacher. She teaches us to be in the moment, to pay attention, and to be conscious. She does so gently at first, but if unheeded you will be given many sharp reminders.
The rainforest has several dangerous aspects, from the the ground suddenly giving way (you will discover the "ground" is more like walking on a deep compost pile of leaves at times), to being visited by poisonous animals and insects. Some trees have needles the length of your fingers, and some poisonous snakes are as thin as a pencil (and easy to miss).
In other words, pay attention! Nothing distinctly wants to hurt you, but everything there wants to survive, so do not to touch anything, as many creatures interpret this as an attack.
If you insist on going into the rainforest without a guide, please let us know before you head out, so that we can send your stuff to your family, along with our condolences.
Ready? We hope you will Join us in caring for this precious rainforest while we learn to care for ourselves!