Meet the people behind Forest.ink
a global conservation community

Inspired by a vision
Forest.ink began as an event of the same name, with the goal of raising awareness of the threats facing the rainforest, while offering a solution: to support Bosque Medicinal, now our sister NGO, in their conservation efforts. Using the resources at-hand, Petra organized the first Forest.ink event bringing together many talented artists to amplify these messages while enabling donations through the sale of paintings and tattoos.
From this small seed, Forest.ink blossomed into the NGO it is today. Along our own journey, we have realized that in order to inspire others to care for our world, and the life it supports, people first had to be healed within. Without inner harmony and peace, many people have great intentions, but are too often pulled back into their own inner-battles, limiting their ability to fully tend to the world around us. With this understanding, we focused our local efforts on personal healing through Nature.
Since then we have grown, attracting like-minded and inspired people to help care for the Self and Nature. As a 100% volunteer-based organization, we are a dedicated group driven by the heart and a desire to have a positive impact on the world around us. We continue to support direct conservation in Ecuador through our sister NGO, Bosque Medicinal, and have partnered with other conservation-driven organizations throughout Europe and Latin America.
"We believe that in order to care effectively for this world, one must first be balanced and healed on the inside. Without inner peace, the best intentions get dragged back into the trials of the self."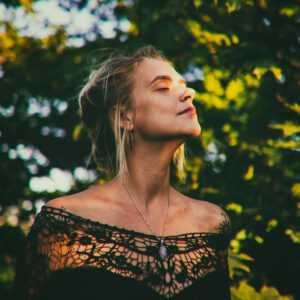 Petra shakti kaur
Petra first first visited the Ecuadorian Amazon in 2016, where she entered a deeper commune with Mother Earth. This inspired her to launch Forest.ink, focusing on the protection and reforestation of the rainforests of our planet, starting at the level of each individual.

Petra, following the golden light of Kundalini Yoga, moved to Guatemala , in order to be initiated as a teacher and instructor at the Golden Temple. She now embodies her true essence as a leader and healer based in Lake Atitlan, working with plants, prana and people, awakening cosmic powers through ancient practices.
Roman kollár
Roman is the founder of Bosque Medicinal, and our initial link to the Ecuadorian rainforest. He has lived in Ecuador for nearly 10 years now, and harbors a deep connection and love for the land. Roman initially lived with the Shuar community Asau for 2 years, learning their ancient wisdom and traditions.
Roman continues to deepen his practice and connection with Pachamama by learning from those that still harbor the ancient wisdom of the rainforests, and living these lessons daily. He inspires us constantly with his way of living in deep connection with nature with abundant love for the life we share this planet with.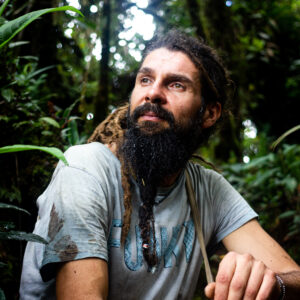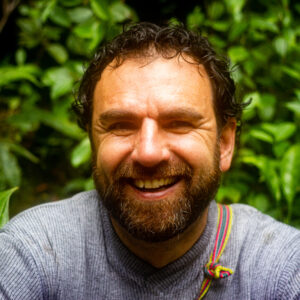 Radim Ondříšek
Radim joined Forest.ink in 2018, and brought with him the grounding elements that we needed to turn our visions into a reality. Sharing in our love for Mother Earth, he has adventured to many exciting parts of our planet, and has spent some time exploring the rainforests of Latin America.
Radim has enjoyed a successful career running his own businesses in the Czech Republic. He brings this expertise and experience to our NGO, helping us enter the next stage of our growth, focusing our intentions, and increasing our impact.
Erik Liepmann
Erik has enjoyed a very diverse background, on every metric. Having grown up around the world, he welcomes and adapts to various cultures with ease and pleasure. Having fallen in love with the life on our planet at a young age, he now dedicates himself entirely to ecologic conservation, beginning at the individual level of personal healing and inspiration.
Erik's love of adventure is endless, and he enjoys nothing more than sharing this with people in search of a deeper connection with our planet and the beautiful life it supports.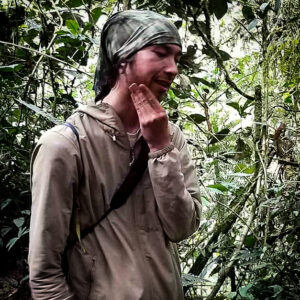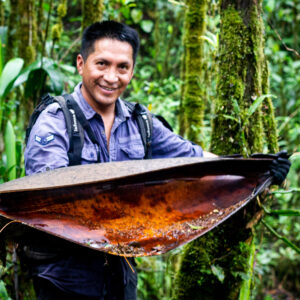 Fredy Nugra
Fredy grew up in Runahurco, the region that our sister organization Bosque Medicinal is focused on conserving. Having been enchanted by fish and aquatic life at a young age, he became a professor of biology at the University of Azuay.
Fredy's love and joy for the life in the rainforest is infectious, and he has proven himself an invaluable part of both Forest.ink and Bosque Medicinal. When his time permits, he helps lead groups through the rainforest, explaining the beauty and mysteries of the life that surrounds them as they explore together. He has also helped Forest.ink and Bosque Medicinal forge lasting relationships with local communities, governments, and academic institutions.
Nico

Kadlecov

á
Nico works with movement, sound, light, fabrics and colors. She finds inspiration in the universe, and particularly in the night's starry sky. She works with artists of the same vibration and loves nature. She studies yoga therapy, works with breath, and other means to rejuvenate the body and mind. Nico studied painting at the Liberec Design Department, and has held creative courses for both children and adults in the years following.

Nico is a critical element in launching and organizing our local efforts. She has a gift for bringing people together for the most fantastic events, and always ensures there is an element of magic in all of them.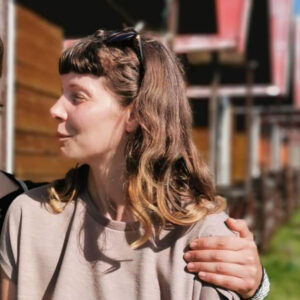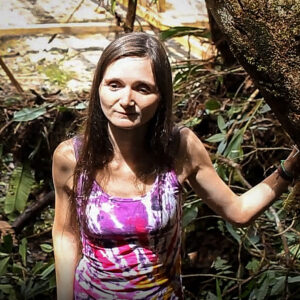 Nicolka Svandova
Several years ago Nicolka lost her eyesight due to a serious injury. In 2016, her life led her to Ecuador, where she had the opportunity to get acquainted with local curanderos and to connect with the healing power of nature in the Amazon rainforest. Since then she visited Latin America another two times, staying in Ecuador and Peru. Nicolka considers the beauty of nature and Mother Earth to be an inexhaustible well of inspiration. She perceives painting blind as a way to be close to your heart. Nicolka has also studied law, helping us navigate the legal mazes in the Czech Republic.
bara trknová
Bara has an enormous heart, and has been living a life of service to various social causes. Her love for life on this planet, in all of it's curious forms, is abundant and inspiring. Currently she is involved professionally with Obraz, a Czech organization focused on legislative changes in support of animal rights and ethics. We are lucky to have her also help with Forest.ink, supporting our many local events and initiatives.